Via Scoop.it – From The Pews' Puter…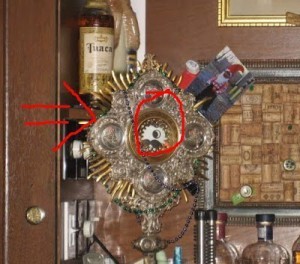 I have no problem poking fun at myself.
I can even laugh at movies that put into question our Faith.
I will confess, I watched "Dogma" when it came out, against my Mami's wishes!
And I will further confess, I laughed and Liked it!!
I could not understand all those people being offended by it.  I thought it was funny.
Now I am not foolish, I can see why the feathers were ruffled, but I chose to see the good in the film.
If you haven't seen it, basically, two Angels, Bartleby, Ben Affleck, and Loki, Matt Damon, are banished to earth for a transgression. And are discover, guided by a demon that wants humanity to be destroyed, that during a celebration, a Priest has stated that those that go through an Arch, I think it was, will receive a plenary indulgence. This will allow them to get back to Heaven, destroying humanity in the process.
Many events ensue, it is a comedy after all.
But think about it…
Bartleby is angry and embittered that  we, Humanity, are well, basically screw-ups and yet, God shows us Infinite Mercy, while he is banished from Heaven for one transgression. So, he feels that we should be destroyed. GREAT POINT, right?
And throughout the film you see the Unity of Humankind during trials.
At the end, you realize that everything that we may see as punishment, or God not being there has a purpose or reason.
Good can come out of bad.
AND God is in every person.  Even in homeless men and women!  Thus, we should always see God in every person we meet.  Love One Another as He Loves Us.
Point being, that there are some things, many things that you can not only find the good in, but laugh at!
I try to not take offense to what people say to me or about my Faith, because they are mostly ignorant of the Truth.
At least, this is how I see it.
But this…this is different…
These are CONSECRATED ITEMS! They held the Body and the Blood of Christ!!
This I cannot condone!
I beg of you, even if you do not believe the Truths that I hold, respect should run across the board?  Que no?
I may not agree with what you believe, but if you hold something in High Regard, you would think it in the very least a lack of respect for you and your beliefs, if not PROFANE!
Which is how I feel. And others as well.
For the sake of Peace and Respect, we must, must be against this.
You can click on The Crescat's link below or here to take you to her page and from there you too can voice your repugnance to Ale Mary's Bar.
Or you can go directly to 500,000 Against "Ale Mary's" Bar page here.