Via Scoop.it – From The Pews' Puter…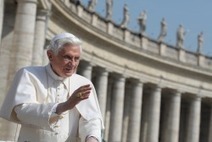 "I recall with deep gratitude the endless lines of people along the streets, who accompanied me with enthusiasm. In those hands that reached out in sign of greeting and affection, in those happy faces, in the shouts of joy I caught the tenacious hope of Mexican Christians, a hope still burning in their hearts despite the difficult times of violence, which I did not fail to deplore, with my heartfelt thoughts for the victims, some of whom I was able to personally comfort.
The same day I met many children and adolescents, who are the future of the nation and the Church.
Their inexhaustible joy, expressed with loud songs and music, as well as their eyes and their gestures, expressed the strong desire of all the children of Mexico, Latin America and the Caribbean to live in peace, serenity and harmony, in a more just and reconciled society.
The disciples of the Lord must help nurture the joy of being Christian and the joy of belonging to his Church.
The energy to serve Christ in difficult situations and suffering is also born from this joy.
I recalled this truth to the immense crowd that gathered for the Sunday Eucharistic celebration in León's Bicentennial Park.
I urged everyone to trust in the goodness of Almighty God which can change dark and unbearable situations from within, from the heart.
The Mexicans responded with their ardent faith, with their convinced adherence to the Gospel, I recognized once again consoling signs of hope for the continent…
Each one of us is loved by Jesus "to the end", that is to the total gift of Himself on the cross when he cried: "It is finished!' (Jn 19.30).
Let us allow ourselves to be touched by this love, to be transformed, so that the resurrection may really be realized in us.
I invite you, therefore, to live the Paschal Triduum intensely, and I wish you all a Holy Easter!"