Via Scoop.it – From The Pews' Puter…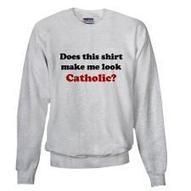 "Being unable to give an answer to someone who is curious about Catholicism is one thing, but failing to live up to my Teacher's expectations in both word and deed is another, more serious issue.
Unfortunately, this is where many of my wayward brothers and sisters find themselves in the Catholic Church- uninformed and thus a danger to their own salvation and to the perception of the fullness of Truth."
A Very Powerful and Well-Written, Expressed and Thought-Out Piece.
Thank you, Mr. Burdick.